Step into the captivating world of anime with our handpicked selection of exhilarating anime games for Android device! Whether you're an avid otaku or simply looking to immerse yourself in stunning visuals and engaging storylines, we've got you covered.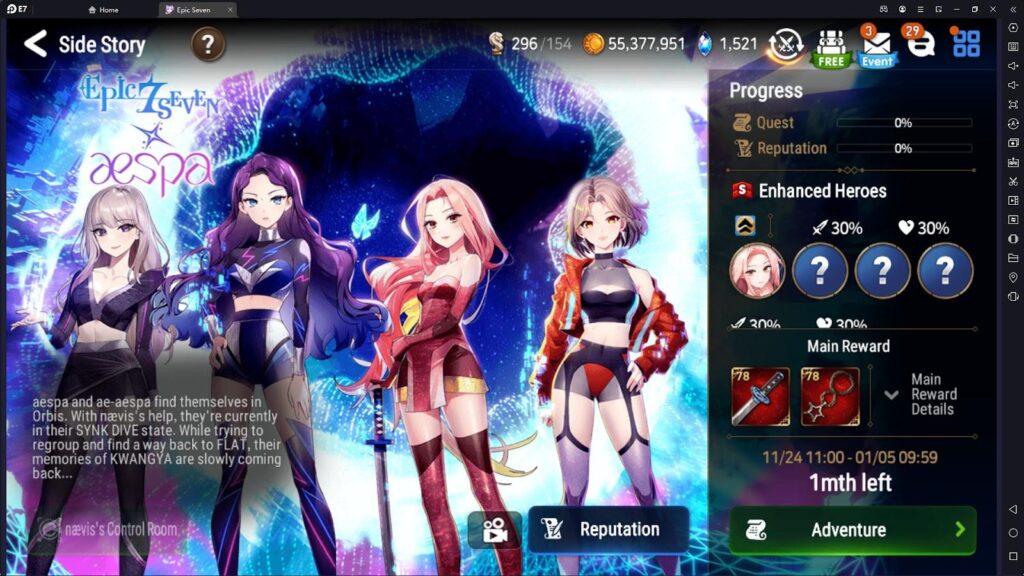 Top Anime games for Android
From thrilling battles to heartfelt narratives, these free anime games for Android will transport you to realms where heroes rise, friendships are forged, and epic adventures unfold. Get ready to unleash your inner anime protagonist as we unveil a captivating lineup of games that are sure to keep you entertained for hours on end!
Also try: 10 offline games for android
Top 5 anime games for Android
Genshin impact
Naruto X Boruto ninja voltage
Dragon ball legends
One piece bounty rush
Epic seven
Details of top anime games for Android
Genshin impact
Enter Teyvat, a vast region teeming with the energy and vitality of the elements. You and your sibling are aliens from another planet. You are separated by an unnamed god, robbed of your skills, and thrown into a profound sleep, emerging to a world that is radically different from the one you first entered.
System requirements
| | |
| --- | --- |
| Download size | 271 MB |
| OS | Android 5.0 and up |
| Genre | Action, role-playing |
| mode | Single-player |
About the game
Start your adventure over Teyvat in search of the gods of each element, The Seven, for answers. Prepare to explore every square inch of this amazing planet along the way, team up with a wide variety of characters, and solve the various secrets Teyvat holds.
Any mountain may be scaled, any river can be crossed, and any world below can be flown over while admiring the breathtaking panorama. And who knows what you might find if you stop to look at a wandering Seelie or weird mechanism? Vision users can make use of the numerous interactions between Anemo, Pyro, Cryo, Electro, Hydro, Dendro, and Geo.
Join forces with a colourful ensemble of Teyvat characters, each with their own distinctive personality, background, and skills. To help you battle even the hardest foes and realms, level up your characters and select your favourite party combinations.
Work with friends across platforms to boost elemental activity, face off against tough bosses, and master difficult domains to earn valuable rewards.
Naruto X Boruto ninja voltage
Grow your ninja village by entering the world of shinobi and ninjutsu in Naruto! bringing together cherished characters from the two most recent seasons of the hit anime series BORUTO: NARUTO SHIPPUDEN. Develop the resources of your village, build a ninja stronghold, and protect it from intruders! Alternately, go on the attack and infiltrate hostile ninja strongholds by eliminating shinobi and traps with your most formidable ninja warriors and ninjutsu! Participate in the epic fusion of castle strategy and shinobi battle today!
System requirements
| | |
| --- | --- |
| Download size | 113 MB |
| OS | Android 5.1 and up |
| Genre | Action, role-playing |
| mode | Multiplayer |
About the game
Step into the captivating world of NARUTO X BORUTO: Ninja Voltage, an innovative fortress strategy action game that brings the beloved Naruto manga to life. Command an impressive roster of iconic shinobi, including Naruto Uzumaki, Sasuke Uchiha, Boruto Uzumaki, Sarada Uchiha, and many more, as you embark on a thrilling journey of power and mastery. Evolve your ninjas into unstoppable forces through strategic enhancements, and witness their incredible growth as you strive to become the strongest clan in the ninja realm.
Immerse yourself in the mesmerizing 3D anime world, where you can unleash explosive ninja combos with intuitive controls. Utilize powerful Ninjutsu attacks, such as Naruto Uzumaki's Rasengan, to obliterate your foes and emerge victorious. Engage in challenging ninja missions to earn rewards and forge unbreakable bonds by joining a shinobi guild, where you can undertake daring missions with like-minded allies.
Form a formidable team of up to 4 players to take on unsealed Giant Bosses in Suprise Attack Missions, testing your teamwork and skills to the limit. Alternatively, venture into the competitive realm and invade other players' fortresses, engaging in exhilarating PvP battles. Rise through the ranks and leave your mark in the annals of ninja history.
Unleash your inner shinobi and let the legend unfold in NARUTO X BORUTO: Ninja Voltage. The ultimate adventure awaits, where you hold the power to shape the destiny of the ninja world.
Dragon ball legends
In this anime action game, call upon your favourite Dragon Ball characters to fight. Your collection of heroes comes to life with stunning 3D visuals and animations: To assemble your ideal team for the next fights, find and train more than 400 characters. You will be met by Goku, Trunks, Vegeta, Piccolo, Frieza, Majin Buu, Broly, and many other heroes and villains. Together with Shallot and your favourite DRAGON BALL characters, save the planet!
System requirements
| | |
| --- | --- |
| Download size | 90 MB |
| OS | Android 6.0 and up |
| Genre | Action, strategy, role-playing |
| mode | Single-player, multiplayer |
About the game
Dragon Ball Legends features action-packed anime action RPG gameplay. Dragon Ball Legends brings the anime to life on your mobile device with simple card-based strategy gameplay and intuitive fighting controls, all presented in breathtaking 3D animation!
All of your favourite anime DB characters are prepared for fight, including powerful heroes like Goku, Gohan, Piccolo, and Krillin as well as wicked antagonists like Frieza, Cell, and Majin Buu. Invite popular DRAGON BALL anime characters from DBZ and DBGT to DBS! Discover a fresh, original tale based on the enigmatic Shallot, a brand-new Saiyan created by Akira Toriyama!
Enjoy live PVP combat where you may face off against friends or other gamers from around the world one on one. Earn Rating Points and Rewards by participating in Ratings Matches with your favourite Dragon Ball characters! Alternately, test your fortitude in friendly, non-ranking combat with opponents of comparable strength.
Are you prepared to make history? Download DRAGON BALL LEGENDS right away for the best DB anime action RPG ever!
One piece bounty rush
the newest ONE-PIECE game on mobile. Team fights in real-time with REAL PLAYERS. Take what you want, pirate! A 3D anime battle arena treasure-hunting game called One Piece Bounty Rush is set in the well-known manga pirate universe of One Piece.
System requirements
| | |
| --- | --- |
| Download size | 134 MB |
| OS | Android 5.0 and up |
| Genre | Action, fighting |
| mode | Single-player, multiplayer |
About the game
Embark on a swashbuckling voyage alongside the charismatic Luffy and a crew of beloved characters in heart-pounding 4 vs 4 real-time PvP battles. Prepare to engage in an electrifying anime pirate showdown where the ultimate goal is to capture the treasure trove of Berry coins!
Immerse yourself in the captivating capture-the-flag-style gameplay, where two teams of four players clash in a frantic race to amass the greatest wealth. With every passing moment, the stakes escalate, compelling you to outmaneuver and outwit your adversaries. Gather your wits, rally your teammates, and seize the glory that awaits the victors!
Unleash the unrivalled power of iconic One-Piece anime characters, such as the fearless Luffy and the formidable Zolo. Combine their unique abilities and construct an unstoppable treasure-seeking crew. Unlock additional characters by collecting Character Fragments during battles, expanding your options and ensuring a formidable force that cannot be reckoned with.
Prepare to set sail, as the winds of fortune blow in your favour. Join the exhilarating 4 vs 4 multiplayer treasure looting action, and forge a legend worthy of the high seas. Only the most cunning and audacious pirates will triumph in this thrilling saga of plunder and adventure. The path to riches awaits—lay claim to the grandest treasure of them all!
Epic seven
ENJOY THE ANIMATION RPG An animated role-playing game universe in the palm of your hand: Epic Seven. The 7th World… began in this manner. The Heir of the Covenant and the Guardians were once more given form by Diche, the Goddess of Life, who called upon all of her dwindling strength. "My children, I entrust this world to you."
System requirements
| | |
| --- | --- |
| Download size | 77 MB |
| OS | Android 5.0 and up |
| Genre | Role-playing, turn-based RPG |
| mode | Single-player, multiplayer |
About the game
Prepare to delve into the mysterious depths of the Labyrinth, where an ancient queen stirs from her long slumber. Embark on an exhilarating monster hunt filled with bountiful rewards. Engage in heart-pounding 3v3 battles, as the long-awaited Guild Wars make their grand entrance!
Unite with your fellow Guild members and strive to become the most formidable force in the realm. The awakening of the World Boss presents a monumental challenge that demands combined strength. Gather up to 16 Heroes and unleash their incredible powers in a battle of epic proportions. Clash with players from every corner of the globe in real-time battles that will test your mettle and strategic prowess.
Challenge your fellow Heirs, demonstrate your indomitable spirit, and leave no doubt about your unrivalled strength. The time for action is now. Step into the fray and claim your place among the champions. The Labyrinth awaits, filled with untold treasures and unparalleled excitement. Will you rise to the challenge and conquer this ultimate test of power?
Conclusion
As you bid farewell to this blog, armed with a plethora of remarkable anime games for Android device, let your imagination soar and your thumbs dance across the screen. Dive into the boundless realms of anime, where fantasy intertwines with reality, and where every battle fought and the bond forged leaves an indelible mark on your soul.
Whether you seek action-packed battles, heartwarming tales of friendship, or mind-bending puzzles, these free anime games for Android offer a gateway to endless entertainment and unforgettable experiences. So, download your favorites, assemble your team, and embark on a thrilling journey through the anime universe right at your fingertips.
Unleash your inner hero, forge unbreakable bonds, and let the power of anime games transport you to realms beyond your wildest dreams! Embrace the extraordinary and let the adventure begin!
Also Read:
free offline arcade games for android
FAQs
Q1. What are the best anime games for android?
Ans. Top 5 anime games for Android
Genshin impact
Naruto X Boruto ninja voltage
Dragon ball legends
One piece bounty rush
Epic seven
Q2. Can I play these games on android 7?
Ans. Yes, and you can also check the system requirements of the games to know more about the requirements.
Q3. Can i play android games without the internet?
Ans. Yes, there are lot of free Offline android Games that can be played without internet. To know more about such games, check this out offline android games