Hello, fellow fans of the zombie! Are you prepared to set off on a zombie adventure directly from your hand? You're in for a treat because we're about to look more deeply into the fascinating world of Android zombie games. We have what you need, whether you're a brain-craving gamer or just seeking to have a good time.
Android zombie games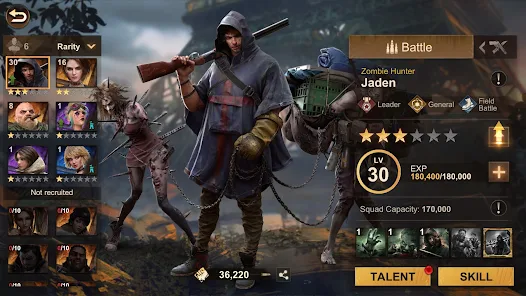 Grab your Android and get ready for a heart-pounding journey through the best zombie-infested games, which will have you biting your nails and craving more blood. Let's dive right into the realm of Android zombie games and prepare to fend against hordes of the undead with simply a swipe of your finger.
Also check: offline action games for android
List of top Android zombie games
Doomsday: last survivor
Dead Target
Plants vs Zombies classic
Mad zombies: dead rising
Into the Dead 2
More details of top Android zombie games
Doomsday: last survivor
In a near-future world where zombies have taken over, survivors must fight for their lives and civilisation's destiny. Do you enjoy playing zombie games but are sick of playing strategic games? Check out the thrilling survival game Doomsday: Last Survivors!
System requirement
| | |
| --- | --- |
| Download size | 1.2 GB available space |
| OS | Android 5.1 and up |
| Genre | Strategy, survival |
| mode | Single-player, multiplayer |
About the game
As the Commander, you must guide other survivors as they construct their Shelter, scout out foggy areas, and engage in combat with the undead and other groups. In one of the coolest strategy games, discover innovative strategies to defeat your opponents. You'll be joined by knowledgeable survivors as you explore this devastated world rife with infected. To survive the zombie onslaught, be alert, set up perfect Hero formations, and build fortifications!
Kill zombies to survive the end of the world, or raid other Shelters to feed your own. One of the best survival games allows you to team up with others and battle foes together.
Utilize whatever you can to improve at survival games. To survive the zombie hordes, train several troop kinds and use a variety of battle techniques along with Hero skills and attacks. Survivors from various spheres of life are portrayed in realistic and captivating Hero designs. To defeat one of the best strategy games, enlist the aid of talented Heroes to guide your soldiers, protect your Shelter, and more!
Also Read: post apocalyptic pc games
Dead Target
An addicting shooting game with first-person shooter elements is Dead Target – a free offline game! Remember that this offline game has a simple control scheme that provides you with a wonderful shooting adventure to spend time on. In DEAD TARGET, keep your guard up, keep your finger on the trigger, and shoot deadly zombies.
System requirement
| | |
| --- | --- |
| Download size | 146 MB available space |
| OS | Android 5.1 and up |
| Genre | Action, shooting |
| mode | Single-player |
About the game
The zombie apocalypse started in 2040. A sniper team was contracted to go to the fighting, gather weapons, and protect residential areas! Your last chance to survive as a resident of Earth is to join them during what may be your final days here. Play shooting games to compete for survival in a zombie apocalypse. Try your best to aim in these free gun games if you don't want to be a dead resident and don't shirk your responsibility.
Attack zombies before the invasion reaches you because, in these zombie games, the undead can appear at any time. After completing your survival mission, you can now declare yourself a hero! Zombies are developed with a variety of lethal killing techniques in this 3D first-person shooter. They are not naive. In this offline shooting game, players will also find many different zombie species.
You can always shoot zombies in DEAD TARGET because it can be played without an internet connection! Although Wi-Fi is advised, it is not necessary to download this offline shooting game. Raise the gun and squeeze the trigger to see who can commit the most murders in this offline shooting game. Then, by keeping track of your kills total, state your values. Shoot the most zombies in offline games to become legendary!
Plants vs Zombies classic- one of the best android zombie games
Use strong plants to stop a zombie onslaught in your yard! As a horde of amorous zombies approaches your house, be ready to soil your plants. Before 26 different types of zombies smash down your door, use your arsenal of 49 zombie-zapping plants, including peashooters, wall-nuts, cherry bombs, and more, to destroy them.
System requirement
| | |
| --- | --- |
| Download size | 89 MB available space |
| OS | Android 4.4 and up |
| Genre | Strategy, shooting |
| mode | Single-player |
About the game
Take on all 50 levels in Adventure mode, including those in a swimming pool, on a rooftop, during the day, at night, and in fog. In Survival mode, you can also fight off waves of zombies as long as you can! Battle 26 additional fun-dead zombies, including zombie pole vaulters, snorkelers, bucketheads, and more.
You'll have to act quickly and think quickly to outwit each of them since they each have unique special abilities. Use your limited quantity of seeds and greens wisely. To enter your home, zombies will leap, run, dance, swim, and even consume plants. To help you plan your strategy, open the Almanac to discover more about all the plants and zombies.
Mad zombies: dead rising
Shoot to survive in the zombie game as the zombies are rising and the dead are approaching. This offline game is played by millions of players; come play with us and have fun! The world is still controlled by zombies, the Day of the Dead is soon approaching, there seems to be fire everywhere, and some zombie hunters are trying to restore control. However, given how hazardous and crowded the zombie population is becoming, this is not a simple process. Will there be a conclusion to the dispute in this zombie game? It is your duty since you are the shooter's survivor.
System requirement
| | |
| --- | --- |
| Download size | 122 MB available space |
| OS | Android 5.1 and up |
| Genre | Action, shooting |
| mode | Single-player |
About the game
As in many different zombie video games, your target is a zombie that is both dead and insane. The target is not a dumb zombie; they can move around, run towards you, and attack; they have a squad and are skilled at combat. The road, the city, the town, and possibly the plants are all filled with walking zombies.
To gain the upper hand in zombie games, you must devise a plan to eliminate them all. Stop the dead by shooting them in the head to preserve your bullet. Keep your finger on the trigger and shoot them as quickly as you can; otherwise, you'll perish.
It's challenging to be the best terminator in this offline shooting game featuring zombies; it takes excellent shooting prowess, headshot prowess, and logical strategy. To succeed in this shooter game, complete your mission, get bonuses, and equip effective weapons. This will allow you to eliminate all crazy zombies and successfully defend your frontier.
If you want to play zombie games, be careful when shooting and hunting because a zombie bite could be your last. This shooting game allows you to compete with other shooters in World Opps and earn all the free bonuses.
Into the Dead 2- try this android zombie games
The ultimate zombie apocalypse action shooter lets you kill zombies and flee for your life! Into the Dead 2 is the follow-up to the popular zombie action game.
System requirement
| | |
| --- | --- |
| Download size | 1.7 GB available space |
| OS | Android 5.1 and up |
| Genre | Shooting, action |
| mode | Single-player |
About the game
Navigate the zombie apocalypse while trying to save your family in a race against time. Build up a stockpile of powerful weapons and take whatever necessary measures to survive. Anything to keep going, including maiming, slaying, and mowing down the Dead! How far are you willing to go to survive in a dangerous world?
Prepare yourself for an adrenaline-fueled thrill ride with these top-notch zombie games for Android. Get ready to conquer seven action-packed chapters, each filled to the brim with heart-pounding excitement. With a whopping 60 stages to conquer, you'll never run out of undead foes to take down. But be warned, my friend, this won't be an easy task. Luckily, you'll have an arsenal of powerful weapons and ammo perks at your disposal.
Unlock and upgrade an array of melee weapons, firearms, explosives, and more to make those zombies regret ever crossing your path. And don't think the gameplay will be monotonous – far from it! You'll have a range of options to choose from. Rain fire upon the horde from military gun emplacements, unleash your fury from atop vehicles, use your quick reflexes to stab them and stay alive, or embrace the ultimate challenge of going after them on foot. The choice is yours, but one thing's for certain – a thrilling adventure awaits you in the world of these Android zombie games!
Conclusion
In summary, the world of Android zombie games is a veritable gold mine of intrigue, skill, and heart-pounding action. These games provide countless hours of undead-slaying fun with comprehensive chapters, various stages, and a variety of challenges waiting for you. You can inflict destruction from gun emplacements, vehicles, or even on foot thanks to the many gameplay possibilities.
So go no further than these Android zombie games if you're ready to venture into a world overrun with zombies following the end of the world. Be them right now and be ready for an amazing journey. Remember that your odds of surviving the onslaught of the undead are in your own hands. Make each shot matter. It's time to establish your superiority over the living dead in the world of Android zombie games!
Also Read:
FAQs
Q1. What are the best android android games?
Ans. List of top Android zombie games
Doomsday: last survivor
Dead Target
Plants vs Zombies classic
Mad zombies: dead rising
Into the Dead 2
Q2. Can I play these games on android 7?
Ans. Yes, and you can also check the system requirements of the games to know more about the requirements.
Q3. Can I play these android zombie games without the internet?
Ans. Yes, there are a lot of free Offline Android Games that can be played without the internet. To know more about such games, check out offline android games