Are you ready to embark on a thrilling journey into the realm of intense competition and strategic mastery, and enjoy PC games like league of legends? Look no further than the captivating world of PC gaming, where legends are born and epic battles unfold. Among the myriad of immersive titles, one game stands tall, captivating millions of players worldwide with its adrenaline-fueled gameplay and unending possibilities.
Enter the realm of League of Legends, where summoners become champions, teamwork reigns supreme, and victory awaits those who dare to rise above the rest. Get ready to immerse yourself in a world of strategic brilliance and unforgettable moments as we delve into the enchanting realm of PC games like League of Legends.
Top 5 pc games like League of Legends
Dota 2
Team Fortress 2
Overwatch 2
Heroes of the Storm
Smite
Let's look into the details of the pc games like League of Legends
Dota 2
Over 100 different Dota heroes are used in battle by millions of gamers every day. And whether it's their 10th or 1,000th hour of play, there's always something new to learn. Dota 2 has developed a life of its own thanks to frequent upgrades that guarantee a steady evolution of the gameplay, features, and heroes.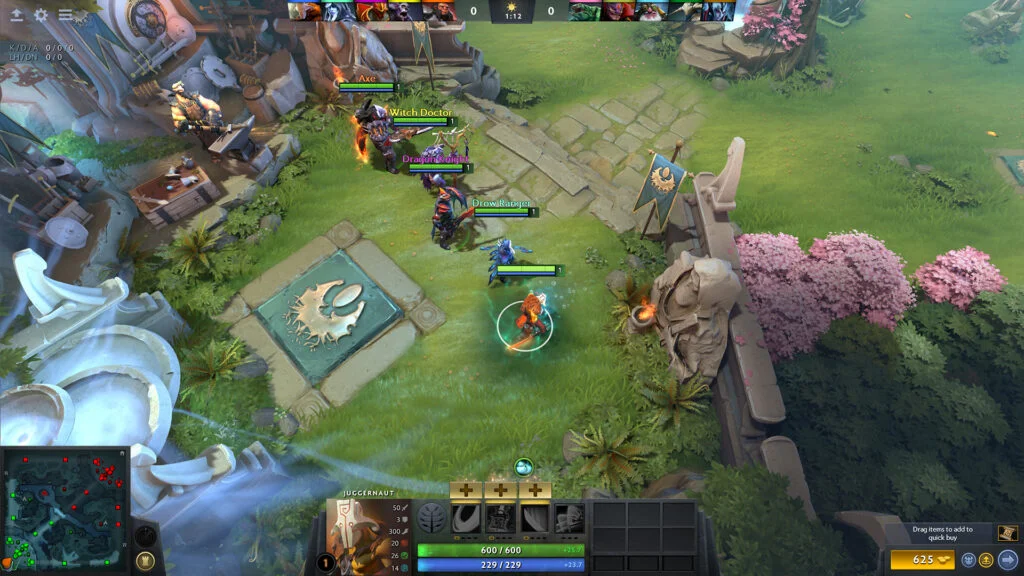 System requirements
| | |
| --- | --- |
| Game size | 60 GB |
| OS | Windows 7 or newer |
| Processor | Dual-core from Intel or AMD at 2.8 GHz |
| Memory | 4 GB RAM |
| Graphics | NVIDIA GeForce 8600/9600GT, ATI/ AMD Radeon HD2600/3600 |
| Genre | MOBA |
| Modes | multiplayer |
About the game
A big structure that is being defended by the opposing team, known as the "Ancient," in the video game Dota 2, must be destroyed while each team is defending its own. The controls are conventional real-time strategy ones, similar to Defense of the Ancients, and the game is displayed on a single map in 3 dimensions from an isometric viewpoint. The game's 124 playable characters, or "heroes," each have their own special appearances, benefits, and drawbacks.
In a pre-game drafting phase where they can discuss possible strategies and hero matchups with their teammates, players choose their hero. Heroes have just one skill accessible to them and a level of one experience when the game begins, but they can level up and increase power as the game progresses, reaching a maximum level of 30.
The map is divided in half by a navigable river and connected by three lanes, which are occupied by the two teams, the Radiant and the Dire. As they move through the lanes on predetermined courses, a small number of weak computer-controlled "creeps" make attacks on any enemy heroes, creeps, and structures in their path.
There are several game modes in Dota 2 that primarily change how heroes are chosen. Some of these modes are "All Pick," which has no restrictions on hero selection, "All Random," which assigns heroes to players at random, "Captain's Mode," which allows one player on each team to choose heroes for their entire team and is primarily used in professional play, and "Turbo," an accelerated version of "All Pick" with more gold and experience gained, weaker towers, and faster movement.
Team Fortress 2
The nine distinct classes cover a wide range of tactical ability and personality. updated periodically to introduce fresh game genres, environments, equipment, and—most crucially—hats! This is one of the top PC games like league of legends, so give it a try!
System requirements
| | |
| --- | --- |
| Game size | 15 GB available space |
| OS | Windows 7 (32/64-bit)/Vista/ XP |
| Processor | 1.7 GHz processor or better |
| Memory | 512 MB RAM |
| Graphics | NVIDIA GeForce 9800 GT/ AMD Radeon X1600 |
| Genre | First-person shooter |
| Modes | Single-player, multiplayer |
About the game
Most game types pit BLU and RED against one another to achieve a combat-based goal. Nine-character classes, each with their own special strengths, weapon sets and, weaknesses, are available for players to pick from. When the game was first released, there were just six official maps included, but later updates added more than one hundred, including community-created levels. Each time a player chooses a game mode for the first time, an introduction video that explains how to accomplish the objectives of each mode is played.
Team Fortress 2 is the first multiplayer game from Valve to provide comprehensive data to individual players. These statistics include the total amount of time spent playing as each class, the most points earned, and the most objectives finished in a single life.
Several achievements are available in Team Fortress 2 for completing specific goals, such as getting a specific number of kills or finishing a round in a specific amount of time. The various ways in which Team Fortress 2 is played determine the maximum size and make-up of a team and can significantly alter the effects of a single-player's gameplay or class selection. The two most fundamental formats are 12v12 and 6v6, also known as "Sixes," and they are both freely used in both competitive and casual modes on official Valve servers.
Overwatch 2
The player-versus-player (PvP) modes in Overwatch 2 are the main focus of the game, which is a sequel and replacement for the 2016 hero shooter Overwatch. In PvP games, the change from six to five teams was a substantial modification. Several important characters were also changed.
System requirements
| | |
| --- | --- |
| Game size | 50 GB |
| OS | Windows 7/8/10 64-bit |
| Processor | Intel core i3 or AMD Phenom X3 8650 |
| Memory | 6 GB RAM |
| Graphics | NVIDIA GeForce GTX 600 series, AMD Radeon HD 7000 series |
| Genre | First-person shooter |
| Modes | multiplayer |
About the game
In Overwatch 2, a hero shooter in which they are split into two teams, players select a "hero" from a selection of 35 characters. Characters are divided into three classes: "damage," which is in charge of attacking actions; "support," which is in charge of healing and buffing; and "tank," which is in charge of clearing space for their team.
Two players from each class made up each squad in the original Overwatch, which was made for six-on-six team warfare. One less tank spot was added in Overwatch 2, lowering the overall number of players per team to five. The main focus of Overwatch 2's gameplay, like that of its predecessor, is player versus player (PvP) conflict across a variety of modes and maps, with both casual and ranked competitive matches available.
A ping system is present in Overwatch 2 to direct teammates' focus to particular locations on the map. Additionally, the game adds a new PvP mode called "Push," which is akin to tug of war. In this mode, teams compete for control of a robot that pushes their team's payload to the other team's side of the battlefield.
Heroes of the Storm
In 5-versus-5 games, players compete in five-player teams against each other. The first team to destroy the greatest structure on the opposing team, known as the "King's Core," wins the match. play this pc game and find out if it should really come in the list of PC games like league of legends.
System requirements
| | |
| --- | --- |
| Game size | 10 GB |
| OS | Windows XP/Vista/ 7/ 8 |
| Processor | Intel core 2 duo or AMD Athlon 64 X2 5600+ |
| Memory | 2 GB RAM |
| Graphics | NVIDIA GeForce 7600 GT, ATI Radeon HD 2600 XT, or Intel HD Graphics 3000 |
| Genre | MOBA |
| Modes | multiplayer |
About the game
Online 5-versus-5 matchups are the focal point of Heroes of the Storm. In each match, players cooperate to meet the ultimate victory condition of destroying the "Core" of the opponent team before their team achieves the same. At least one line of protective "forts" and "keeps" must be destroyed to approach the Core.
Each of the 90 playable characters, or "heroes," has a different design, capabilities, and weaknesses and can be controlled in all game types. The six different roles that heroes can play are tank, ranged assassin, bruiser, healer, melee assassin, and support.
Each hero has a unique set of skills. The typical "ability kit" contains three fundamental skills that are useable at level 1, a skill that can be active or passive, and a potent "heroic skill."
Players can earn experience points by collecting experience globes from defeated minions, and these points are distributed among the entire squad. This is unusual for the MOBA genre, where the majority of games use a distinct, per-player experience and levelling system.
People can select from a variety of game modes in Heroes of the Storm, including the choice to play either against artificially intelligent Heroes or other players. Matchmaker seeks to balance both sides depending on each player's MMR to discover and produce balanced games in ranked mode,[24] while generally attempting to pair players with similar ratings.
Smite
Join SMITE, the Battleground of the Gods, and its 40+ million players! Use Thor's hammer or choose from 125 other mythological figures to play as. A new map, a new god, a new BP, and a T5 event are all part of the new season! Play for FREE right now and become a God!
System requirements
| | |
| --- | --- |
| Game size | 30 GB |
| OS | Windows 7 64-bit |
| Processor | Core 2 duo 2.4Ghz or Athlon X2 2.7 GHz |
| Memory | 4 GB RAM |
| Graphics | NVIDIA Geforce 8800 GT |
| Genre | MOBA |
| Modes | multiplayer |
About the game
Conquest is the biggest of the several game modes available in Smite. The play styles available to players are Training, Custom, Co-Op, Normal, and Ranked. Players must select a god or other character to play as. This MOBA has a unique feature where the player controls the god from a third-person perspective. Other games in this genre are normally played from a top-down perspective.
Assassin, Hunter, Mage, Guardian, or Warrior are the classes that each character belongs to. Unless otherwise specified, no more than one member of the same team may select the same character. Conquest, joust, slash, assault, arena, and matchmaking are among the numerous game modes.
Related Post for Offline PC Games to Free Download – Play Now
Conclusion
In conclusion, the world of PC games like League of Legends is a treasure trove of excitement, strategy, and endless entertainment. Whether you're a seasoned summoner or a curious newcomer, these games offer a gateway to captivating virtual realms where teamwork and skill reign supreme. With their rich narratives, diverse characters, and competitive gameplay, these PC games provide an immersive experience like no other.
So, gather your allies, sharpen your skills, and embark on a journey filled with epic battles, strategic triumphs, and unforgettable moments. Let the magic of PC games like League of Legends transport you to a realm where legends are made, and victory is within your grasp. Get ready to unleash your inner champion and conquer the virtual battlefield. The adventure awaits!
Best Games for PC, Android, & PC – 2023
FAQs related to PC games like league of legends
Q1. What are the best PC games like league of legends?
Ans. Top 5 pc games like League of Legends
Dota 2
Team Fortress 2
Overwatch 2
Heroes of the Storm
Smite
Q2. Can I play these games on Windows 7?
Ans. Yes, and you can also check the system requirements of the games to know more about the requirements.
Q3. Can you play PC games without the internet?
Ans. Yes, there are lot of free Offline PC Games that can be played without internet. To know more about offline pc games, check this out- offline PC games