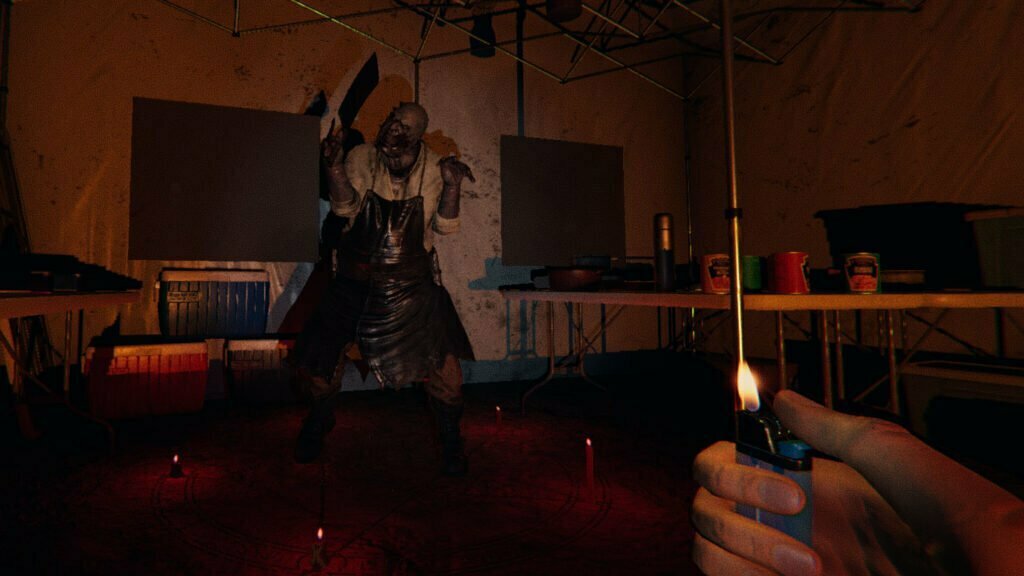 Me and my friends are crazy about horror stuff whether it is horror movies, novels, stories, or any other horror-related things. While we were discussing horror movies, we came up with the thought of playing horror games. and guys! Out there are many horror pc games that will make you scream but you will also enjoy them. I have developed some of the best horror pc games you can download and play for free.
Let's look at the details of some of the horror pc games.
Visage
A first-person psychological horror game is called Visage. Enjoy a disturbing experience as you explore a mysterious, constantly-changing mansion in a slow-moving, atmospheric universe that combines comfortingly uncanny and horrifyingly realistic environments. A perfect horror pc game for gamers who live adrenaline rush.
System requirements
| | |
| --- | --- |
| Game size | 10 GB available space |
| OS | Windows 7, 8, 8.1, 10 |
| Processor | Intel core i3 or AMD Ryzen 3 |
| Memory | 6 GB RAM |
| Graphics | NVIDIA GeForce GTX 950 or AMD Radeon R7 370 |
| Genre | Psychological horror |
| Modes | Single-player |
Details
The house is planned as a semi-open environment, with big areas that the user may explore freely and many routes connecting each location. Players must first locate the keys to each door to completely explore the map. While exploring, the player must deal with many dangers.
Second, when the player explores the house, ghosts will manipulate it to produce eerie events. Each supernatural occurrence gets worse as Dwayne's mental state declines, to the point where a ghost or demon may materialise and assault the player. To help them avoid these dangers, players can employ lighters, tablets, lightbulbs, and candles.
Phasmophobia
A four-player, online co-op, psychological horror PC game called Phasmophobia. With your team of paranormal investigators, you will enter haunted locations that are experiencing paranormal activity, and you will work to gather as much evidence as you can. Utilize your ghost-hunting tools to gather and record evidence that you can then provide to a ghost-removal team.
System requirements
| | |
| --- | --- |
| Game size | 21 GB available space |
| OS | Windows 10 64-bit |
| Processor | Intel core i5-4590 or AMD Ryzen 5 2600 |
| Memory | 8 GB RAM |
| Graphics | NVIDIA GTX 970 or AMD Radeon R9 390 |
| Genre | horror |
| Modes | Single-player, multiplayer |
Details
The player must finish a contract in which they must determine the kind of ghost that haunts the designated spot alone or with up to three other players in a group. There are twelve different locations, including small, medium, and large ones.
Speech recognition is a feature in Phasmophobia that allows the ghost and some other objects to hear and understand what players are saying. Payouts are received for completing tasks and gathering evidence; accomplish as many as you can to level up, unlock new maps and challenges, and make money.
There are twenty-four different ghosts in Phasmophobia, and each one acts differently and offers a different set of hints. All exit doors are locked during the hunting phase, forcing players to avoid the ghost until the hunt is over by running or hiding.
To identify the three pieces of evidence that are particular to the sort of ghost they are dealing with and frequently to achieve alternative objectives as well, players must make use of the various pieces of equipment.
Pathologic 2
In the intense thriller Pathologic 2, a dangerous outbreak is fought in a remote rural hamlet. The town is perishing. As you make difficult decisions in situations where everyone seems to lose, you must confront the realities of a society in collapse. The disease isn't all that the plague is. Not everyone can be saved. Play this horror pc game and save the town.
System requirements
| | |
| --- | --- |
| Game size | 25 GB available space |
| OS | Windows 7, 8, and 10 64-bit |
| Processor | I3 (8/9 Generation) -3 Ghz / Ryzen 5 |
| Memory | 8 GB RAM |
| Graphics | NVIDIA GTX 660 |
| Genre | Survival horror, adventure, survival, role-playing |
| Modes | Single-player |
Details
In Pathologic 2, the town on the Gorkhon River serves as the primary setting for gameplay. The town is separated into a number of neighborhoods called "The Gut" and "The Hindquarters," which may become infected or abandoned throughout the course of the game due to the disease. Travelling through plague-infected districts dramatically increases the player's danger of contracting the disease. The player's actions frequently directly determine which districts contract the plague and which remain healthy.
Pathologic 2 occurs over day cycles, which are made up of a single day and a brief night. The majority of activities will be accessible to the player during the day, and townspeople will go about their everyday business. At the theatre in the middle of the town, a play is practiced every evening. These short plays feature weird, surreal, and cryptically prescient scenarios.
To survive, the player must take care of several necessities, including hunger, thirst, weariness, health, immunity from the plague, and reputation with the various neighborhoods in the town.
The "thinking map," which presents the main character's thoughts and happenings in a chart that can be accessed at any moment, directs the player's actions. These ideas frequently indicate places on the map where the player might go to further a specific story line or discover new information.
Pathologic 2 combat is straightforward yet extremely deadly.The player in melee combat can block to defend themselves from hostile melee strikes and launch brief or forceful assaults that utilize varying amounts of stamina.
Fighting the plague and discovering a cure are the main goals of the player's actions in Pathologic 2. The Haruspex's relationship with the town will significantly improve if they are successful in healing citizens.
Five Nights at Freddy's: Help Wanted
The collection of vintage and brand-new mini-games in Five Nights at Freddy's: Help Wanted is based in the Five Nights setting. In a variety of brand-new and vintage FIVE NIGHTS AT FREDDY'S adventures, survive horrific encounters with your favorite killer animatronics.
System requirements
| | |
| --- | --- |
| Game size | 11 GB available space |
| OS | Windows 8 |
| Processor | Intel i5-4590 or greater / AMD FX 8350 or greater |
| Memory | 8 GB RAM |
| Graphics | NVIDIA GeForce GTX 970 / AMD R9 390 |
| Genre | Survival horror, Virtual reality |
| Modes | Single-player |
Details
The hub of the game allows access to the forty playable minigames that are included. Located in a security guard's office, the player must save energy while fending off attacks from four animatronics that can be seen on security cameras during the duration of the night shift.
The Night Terrors minigames mimic the gameplay of the game's main levels, in which the player must use cunning door opening and closing to keep animatronics out of their bedroom.
Fun time Freddy is included on the first level, Nightmare is featured on the second level, Circus Baby is featured on the third level, and Nightmare Fredbear is featured on the fourth level.
Each minigame's counterpart in Blacklight Mode, an extreme difficulty setting that adds visual and/or audio distractions to each game, can be unlocked by succeeding in the game's counterpart in normal difficulties.
World of Horror
Enjoy this one-bit homage to Junji Ito and HP Lovecraft's peaceful terror. Make brutal decisions while engaging in turn-based combat in a terrible roguelike world. In each play, experiment with your deck of event cards to unearth fresh manifestations of cosmic horror. The unavoidable is coming…
System requirements
| | |
| --- | --- |
| Game size | 500 MB available space |
| OS | Windows 7 |
| Processor | Intel core i3 |
| Memory | 1 GB RAM |
| Graphics | Intel HD graphics 4400 |
| Genre | horror, role-playing |
| Modes | Single-player |
Details
The player must engage in supernatural combat and travel throughout the Japanese village of Shiokawa in order to halt the end of the world.
The turn-based combat in World of Horror allows the player to queue up actions and assaults against hostile entities, many of whom are modelled by monsters from Japanese horror manga or urban legends. This is one of the most popular horror PC games.
Related Post for Offline PC Games to Free Download – Play Now
Conclusion
If you all get excited after knowing about all these horror pc games then download now! I have listed some of the most popular and engaging horror pc games for all spooky gamers. If you love the blog, then do tell me in the comments.
Best Games for PC, Android, & PC – 2023
FAQs
Q1. What are the best horror PC game?
Ans. visage, phasmophobia, pathological 2, five night at freddy's : help wanted, and world of horror are some of the best horror PC game
Q2. Can I play these games on Windows 7?
Ans. Yes, and you can also check the system requirements of the games to know more about the requirements.
Q3. Can you play PC games without the internet?
Ans. Yes, there are lot of free Offline PC Games that can be played without internet. To know more about such games, check this out- offline PC games