Tired of living your daily mundane life, want something exciting? Then start living your double life now with the best simulation games on PC. Become a farmer, chef, or city constructor, start a new job, or build a new school or city of your choice.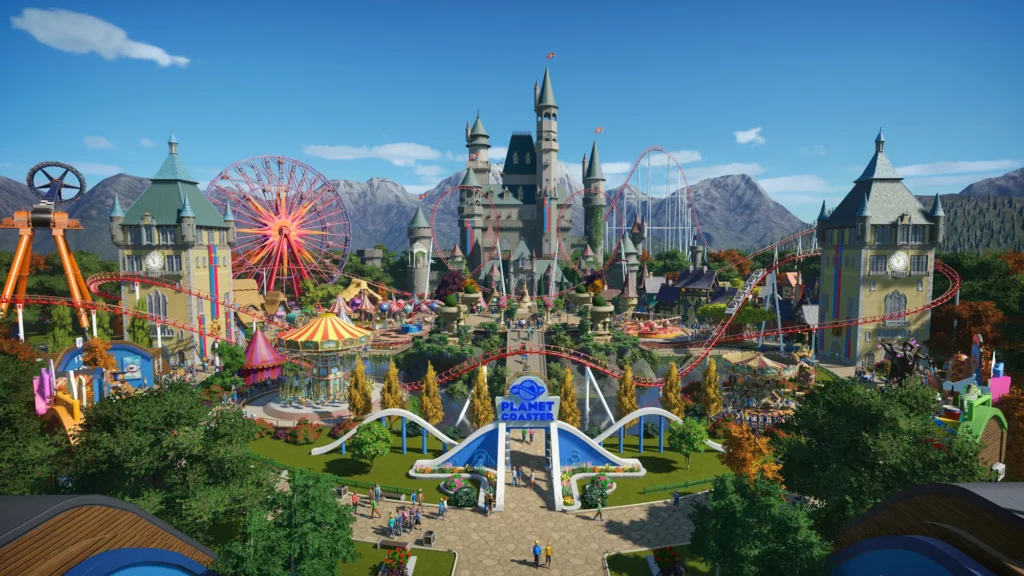 In this blog, we have included different simulation games for PC of different genres. A maximum of these games are available on Windows 7 or 8 and even 10. Gamers of any age can play them. Plan your dream city, school, park, or anything that you want and bring them to reality with these best simulator games.
Cities: skylines
A contemporary version of the traditional city simulation is Cities: Skylines. The game builds on several well-established themes of the city-building experience while introducing new gameplay aspects to reflect the excitement and challenges of establishing and maintaining a real city. It is most popular simulation games for PC
System requirements
| | |
| --- | --- |
| Game size | 4 GB available space |
| OS | Windows® 7 64-bit, windows®8.1 64 bit, windows®10 home 64 bit |
| Processor | Intel ®core™ I7 930, AMD ® FX 6350 |
| Memory | 8 GB RAM |
| Grapics | NVIDIA® GeForce™ GTS 450M(1 GB), AMD® R7 250 (2GB), Intel iris Xe G7 (tiger Lake) |
| Grnre | City-building, construction and management simulation |
| Modes | Single-player |
Details
The game is an open-ended simulation of city building for a single person. By managing an area's zoning, road layout, taxation, public services, and public transit, players participate in urban planning. Additionally, they seek to control the city's finances, health, employment, traffic, and pollution levels, among other aspects. Additionally, a city can be maintained in sandbox mode, giving the user additional creative freedom.
The game has a strong transportation system built on Cities in Motion, a prior Colossal Order game that lets the player design efficient public transportation for the city to lessen traffic congestion and create transit income.
The game has several pre-made building sites and a map editor that enables players to design their landscapes using actual geographic features. The main gameplay mechanics can also be modified; pre-packaged mods offer features like infinite money, a higher difficulty setting, and the ability to get around the aforementioned population tier unlock system.
Stardew Valley
a fun-filled casual game where you can just sit comfortably and grow crops on your field. The grandfather's former farm plot in Stardew Valley has been passed down to the player in this game. The player has embarked on their new existence with some secondhand tools and a few coins. Are you prepared to develop a self-sufficient lifestyle and convert these overgrown fields into flourishing residences?
System Requirements
| | |
| --- | --- |
| Game size | 500 MB |
| CPU | 2 Ghz |
| RAM | 2 GB RAM |
| OS | Windows Vista or greater |
| Graphics | 256 MB video memory, shader model 3.0+ |
| Genre | Simulation, role-playing |
| Modes | Single-player, multiplayer |
Details
Stardew Valley is an open-ended game that lets players cultivate crops, raise animals, fish, hunt, cook, mine, forage, and interact with the locals, including the option to get married and start a family. Four players can compete together online with this feature. Players can choose from a variety of farms, each with its motif, advantages, and disadvantages. To restart the farm and tend to crops and livestock to produce income and further expand the farm's buildings and facilities, players must work to clear the farmland of boulders, trees, stumps, and weeds.
The town's non-player characters (NPCs) are interacted with by players, including by forming relationships with them that can lead to marriage and the NPC's assistance in tending to the player's character's property. The user can eat items that give them benefits that are helpful for specific tasks and circumstances.
The game uses a simplified calendar to determine which crops can be produced and which activities are useful. Each year has four 28-day months, one for each season.
Two point campus
With Two Point Campus, the simulation with a twist from the creators of Two Point Hospital, you can create the college of your dreams. Create, staff, and manage a school with a wide range of courses. Build outside for the first time as you create your own deliciously instructive college environment that contains the best instructional facilities in the nation. You can create the university you desire, whether you choose to use straightforward foundations or plant each tree in its proper place.
System requirements
| | |
| --- | --- |
| Game size | 6 GB available space |
| OS | Windows 7 64-bit |
| Processor | Intel core I3 6100 or AMD FX 4350 |
| Memory | 4 GB RAM |
| Grapics | NVIDIA GeForce GT 1030, 2 GB, AMD RX550 2GB, Integrated: intel HD graphics 630 |
| Grnre | Business simulation |
| Modes | Single-player |
Details
The player of Two Point Campus is tasked with creating and running a college campus. As well as organising various cultural events and extracurricular activities, the player is required to construct a variety of educational spaces, including classrooms, lecture halls, and libraries. Additionally, the player must hire employees including lecturers, teaching assistants, and janitors. The player will also be responsible for the student's welfare in addition to maintaining the campus's functionality.
The player is given a plot of land at the start of the game, and they are allowed to design and construct the college, lay out walkways, and install decorations both within and outside the school.
In the game's sandbox mode, users can freely construct their school. More pupils would flock to a clean atmosphere, which would increase the player's income. Since creating new structures and keeping the students happy both require money, financial management continues to be a key gameplay tenet.
Planet Coaster
Everyone becomes a designer thanks to Planet Coaster. With piece-by-piece construction and more than a thousand distinctive building components, you may lay roads, create scenery, design rides, and give everything in your park its personality. Create amazing coaster parks with unmatched attention to detail, and administer your park in a setting that is alive.
System requirements
| | |
| --- | --- |
| Game size | 8 GB available space |
| OS | Windows 7 (SP1+)/ 8.1/ 10 64-bit |
| Processor | Intel I5-2300 or AMD FX 4300 |
| Memory | 8 GB RAM |
| Graphics | NVIDIA GTX 560 (2 GB) OR AMD Radeon 7850 (2GB) |
| Grnre | Construction and management simulation |
| Modes | Single-player |
Details
The game lets players construct various roller coasters and rides from theme parks. The "global village" feature makes sharing these player-made attractions possible.
Sandbox, Challenge, Career, and Scenario Editor are its four primary game modes. In the career mode, players take on the role of theme park management and are tasked with finishing up chores like employing janitors or building incomplete roller coasters. Players are charged with creating their theme park on a blank piece of land in Sandbox mode. The challenge mode is comparable to the sandbox mode, but it is harder because players must consider money. Similar to career mode, the Scenario Mode lets players create their tasks for all saved parks.
Paper please
Papers, please is a computer game that combines puzzles and simulations. As an immigration inspector, it is your responsibility to manage the traffic approaching Grestin from the Arstotzkan side. Hidden smugglers, spies, and terrorists are among the throngs of immigrants and visitors seeking for employment.
You must determine who can enter Arstotzka and who will be turned away or arrested using only the documents provided by travellers and the Ministry of Admission's primitive inspection, search, and fingerprint systems.
System requirements
| | |
| --- | --- |
| Game size | 100 MB |
| Memory | 2 GB |
| CPU | 1.5 GHz Core2Duo |
| OS | Windows XP or later |
| graphics | OpenGL 1.4 or better |
| Genre | Puzzle, Simulation |
| mode | Single-player |
Details
In the video game Papers, please, the player takes on the role of an immigration inspector who patrols borders in the dystopian nation of Arstotzka, which has historical and present-day political tensions with its neighbours. A migration stop is where the activity is set. The player takes on the role of an immigration officer who must assess each immigrant's passport and other supporting paperwork following an expanding list of regulations using a variety of tools and guides. The duties include detaining those with fabricated information, balancing personal funds, and allowing those with proper documentation in while rejecting those without all necessary documentation.
The player is provided with specific guidelines each in-game day regarding the required documentation and the criteria for allowing or denying entrance, which progressively gets more complex as the days pass.
The player can commit two violations without penalty, but consecutive violations will result in growing monetary penalties deducted from their day's pay. The player has a limited quantity of real-time to process as many arrivals as feasible during a full day shift at the checkpoint.
Paralives
An forthcoming independent game for PC and Mac called Paralives simulates a doll house life. Build the home of your dreams, make some characters, and control their life in and around their residences in an open-world village! Consider taking care of your pet, concentrating on your profession, discovering true love, spending time with friends and family, pursuing hobbies, or continuing to be mischievous.
System requirements
| | |
| --- | --- |
| Game size | 10 GB available space |
| OS | Windows 7/ 8/ 10 64-bit |
| Processor | 2.3GHz intel i3 or comparable |
| Memory | 6 GB RAM |
| Graphics | DirectX® 10 compliant graphics card |
| Genre | Life simulation |
| Modes | Single-player |
Details
In the open world of Paralives, there are job options and a variety of activities, including festivals. Players can construct homes, create characters, and direct their lives however they like.
The "Paramaker" character builder offers sliders and a colour wheel as tools for adjusting a character's look. Players can alter their physique and height, and by utilising the colour wheel, they can switch the hair's root and tint as desired. The player can alter the size, location, and colour of walls, floors, doors, windows, and furniture using a similar mechanism that is in place for items and construction.
Related Post for Offline PC Games to Free Download – Play Now
Conclusion
Enjoy the best simulation games on your PC. Download the simulation games, escape from reality, and build a new life in the virtual world. For more updates on the gaming world, stay connected with us.
Best Games for PC, Android, & PC – 2023
FAQs
Q1. What are the best simulation games for PC?
Ans. Cities: skylines, Stardew Valley, Two point campus, Planet Coaster. Paper please, and Paralives.
Q2. Can I play these games on Windows 7?
Ans. Yes, and you can also check the system requirements of the games to know more about the requirements.
Q3. Can you play PC games without the internet?
Ans. Yes, there are lot of free Offline PC Games that can be played without internet. To know more about such games, check this out- offline PC games