Experience the magic of the silver screen like never before with our collection of PC games based on movies. Immerse yourself in thrilling adventures, epic battles, and unforgettable stories as you step into the shoes of your favorite characters from the big screen. From high-octane action blockbusters to heartwarming tales of love and friendship, our PC games offer a unique opportunity to become part of the cinematic universe.
With stunning graphics, captivating gameplay, and faithful recreations of beloved movie worlds, prepare to embark on an extraordinary journey that will transport you beyond the screen and into a realm of interactive entertainment. Get ready to rewrite cinematic history in the most immersive way possible with pc games based on movies.
List of top pc games based on movies
STAR WARS Knights of the Old Republic
Jurassic world evolution
Marvel's spider-man
John wick hex
Blair witch
Details of pc games based on movies
STAR WARS Knights of the Old Republic
It has been four thousand years since the Galactic Empire was founded and hundreds of Jedi Knights have died fighting the merciless Sith. The Jedi Order's only remaining hope is in you. Can you control the Force's immense power in your struggle to rescue the Republic? You alone will decide the fate of the entire galaxy, whether you're a hero or a villain, a conqueror or a savior!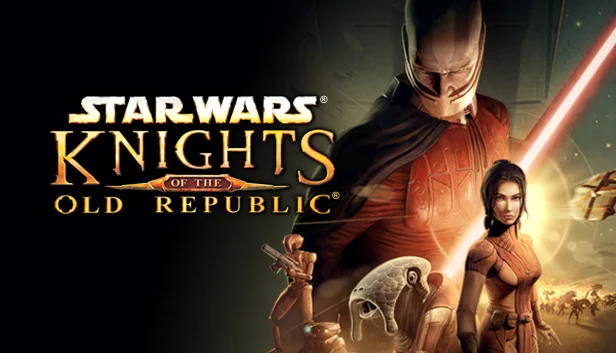 System requirements
| | |
| --- | --- |
| Game size | 3.5 GB |
| OS | Windows XP and windows vista |
| Processor | Intel Pentium 3.1 GHz or AMD Athlon 1GHz |
| Memory | 256 RAM |
| Graphics | 32 MB with hardware T&L |
| Genre | Role-playing |
| Modes | Single-player |
About the game
To defeat Malak, the player's Jedi avatar must travel to many planets throughout the galaxy. At the start of the game, players select one of the three-character classes—Scout, Soldier, or Scoundrel—and then personalize their characters. They then fight foes in rounds.
Players accumulate Light Side and Dark Side Points by interacting with other characters and making plot-related decisions, which decide whether their character is aligned with the light or dark side of the Force and which skills are available to them.
Combat is round-based; time is divided into distinct rounds, and although these actions are shown on screen sequentially, fighters attack and react concurrently. The player can have up to two party members throughout the majority of the game. These allies will take part in the fighting. They can be directed manually by the player or, if no commands are given, they will act on their own.
In addition to the typical role-playing activity, the game also includes a number of minigame occasions. To wager money, the player can also play the card game pazaak, which is comparable to the game of blackjack.
Jurassic world evolution
Frontier Developments created and released the construction and management simulation video game known as Jurassic World Evolution. In June 2018, a video game based on the 2015 motion picture Jurassic World was launched.
System requirements
| | |
| --- | --- |
| Game size | 8 GB available space |
| OS | Windows 7 (SP1+)/8.1/10 64-bit |
| Processor | Intel i5-2300/AMD FX-4300 |
| Memory | 8 GB RAM |
| Graphics | NVIDIA GeForce GTX 1050 / AMD Radeon 7850 (2GB) |
| Genre | Business simulation |
| Modes | Single-player |
About the game
Build your own Jurassic World by putting yourself at the center of the Jurassic franchise. In a world where everything is uncertain and life always finds a way, bioengineer dinosaurs can think, feel, and respond intelligently to the environment while fending off threats like espionage, breakouts, and catastrophic tropical storms.
Bring the magic, majesty, and danger of dinosaurs to life by running operations on the fabled islands of the Muertes archipelago. In a world where everything is unpredictable and something always works out, construct for science, entertainment, or security interests.
Create intelligent, thinking, feeling dinosaurs by bioengineering them. Play with life itself to give your dinosaurs distinctive personalities, characteristics, and features, then keep them in check and make money off of them to support your worldwide search for extinct dinosaur DNA.
Use sophisticated management tools to handle the large picture or get your hands dirty to deal with difficulties on the ground or in the air. In a brand-new story featuring recognizable characters from the whole franchise and decades of Jurassic knowledge at your fingertips, you can expand your islands and customize your own path.
Marvel's spider-man
It presents a unique story that is influenced by both the long-running comic book mythos and numerous media adaptations and is based on the Spider-Man character from Marvel Comics. In the main plot, the super-human crime leader Mister Negative devises a plan to seize control of the criminal underworld in New York City.
System requirements
| | |
| --- | --- |
| Game size | 75 GB |
| OS | Windows 10 |
| Processor | Intel i3-6300 3.80Ghz |
| Memory | 8 GB RAM |
| Graphics | Dedicated graphics card |
| Genre | Action-adventure |
| Modes | Single-player |
About the game
Action-adventure game with an open universe The Manhattan borough of a fictionalized version of modern New York City serves as the setting for Marvel's Spider-Man. The main character who can be controlled is the superhero Spider-Man. He may move throughout the area by leaping, shooting webs with his web shooters to swing across structures, sprinting along walls, and automatically vaulting over barriers.
Enemies can be rendered helpless by using webbing to attach them to adjacent objects and remove them from the battlefield right away. When enemies are thrown from enormous heights, they are instantly caught in a web cocoon and kept from dying.
Spider-Man is equipped with "spider-sense," which is shown by a white symbol surrounding the superhero's head and indicates an approaching attack that can be evaded. When fighting, Spider-Man can use a variety of weapons, including electric webbing, concussive blasts, and impact webbing that can knock opponents back and adhere them to a nearby surface.
Also Read:
John wick hex
A 2019 tactical role-playing game based on the John Wick franchise, John Wick Hex was created by Bithell Games and released by Good Shepherd Entertainment. The video game acts as the movies' narrative precursor. A quick-witted, action-packed strategy game called John Wick Hex challenges you to think and act like the seasoned hitman from the critically renowned film series John Wick.
System requirements
| | |
| --- | --- |
| Game size | unknown |
| OS | Windows 10 |
| Processor | Intel core i3-6300 3.80 GHz |
| Memory | 8 GB RAM |
| Graphics | NVIDIA GTX 960 / AMD Radeon R9 200 |
| Genre | Tactical role-playing |
| Modes | Single-player |
About the game
The user controls the titular guy through a level on a hex-based grid in the temporal strategy game John Wick Hex, employing different moves and actions to eliminate enemies and avoid being hit by his adversaries.
Players must also mind the limited ammunition John Wick has, namely the 15 rounds in his handgun since they lose any bullets still in the weapon's magazine after reloading. The user enters commands for John Wick to carry out into this timeframe, and if they don't add any more, the game will pause.
An intriguing fact is that John Wick double-taps his foes in the movies, therefore every time a player decides to shoot, John Wick fires two rounds at his adversary. The game has been compared to a mix of strategy games like X-COM and games that require quick decisions, like Superhot.
When a level is over, the game can replay the player's actions without requiring input from the player, simulating some of the fluidity of the action scenes in the John Wick movies.
Blair witch
Based on the Blair Witch film franchise, Bloober Team created the survival horror video game Blair Witch. Experience a unique story-driven psychological horror game that explores your responses to stress and anxiety, inspired by the lore of the Blair Witch movie. Take a stand against the horrors of the Blair Witch and a man whose sanity is slipping under the weight of his past.
System requirements
| | |
| --- | --- |
| Game size | 16 GB available space |
| OS | Windows 7 |
| Processor | Intel core i3-3220/ AMD A8-7600 |
| Memory | 4 GB RAM |
| Graphics | GeForce GTX 750 Ti / AMD Radeon R7 265 |
| Genre | Survival horror |
| Modes | Single-player |
About the game
Ellis Lynch, a former police officer and veteran, is controlled by the player as he joins a search party in Burkittsville, Maryland's Black Hills woodland in search of a missing youngster.
The game takes place in a partially open environment and requires players to explore various portions of the locales, which occasionally leads to abandoned buildings, campsites, or tiny niches that only Bullet can enter. They will discover stuff in the bag along the route, including wooden dolls, polaroids of individuals who are missing, dog tags, and letters from a psychiatrist.
A door or a log may occasionally restrict entrance to certain regions, which can only be unlocked by completing a riddle or gathering a number of necessary components. Red and blue are the two colours available. While the blue tape conveys more of the story, the red tape gives players the ability to control and rewind time in order to reposition objects that have been locked or placed into place.
The gameplay is heavily influenced by Ellis' dog, Bullet. The dog can be communicated with by the player using a command menu. Being apart from Bullet for any length of time might have an impact on the character's state, therefore the player must always keep him close by. The relationship between the player and the dog, which considers the player's actions, determines how the game will conclude.
Related Post for Offline PC Games to Free Download – Play Now
Conclusion
In conclusion, PC games based on movies offer an unparalleled opportunity for gamers and movie enthusiasts alike to immerse themselves in the magic of cinema. With stunning graphics, captivating gameplay, and faithful recreations of beloved movie worlds, these games allow players to step into the shoes of their favourite characters and embark on epic adventures.
Whether it's battling hordes of enemies in an action-packed blockbuster or unravelling a gripping mystery in a suspenseful thriller, these games bring the silver screen to life in a way that surpasses passive viewing. By bridging the gap between film and gaming, PC games based on movies provide a unique and interactive experience that allows players to rewrite cinematic history and create unforgettable moments.
So, grab your controller, enter the virtual world, and get ready to unleash your inner hero in these extraordinary gaming experiences inspired by the greatest movies of all time.
Best Games for PC, Android, & PC – 2023
FAQs
Q1. What are the best PC games based on movies?
Ans. List of top pc games based on movies
STAR WARS Knights of the Old Republic
Jurassic world evolution
Marvel's spider-man
John wick hex
Blair witch
Q2. Can I play these games on Windows 7?
Ans. Yes, and you can also check the system requirements of the games to know more about the requirements.
Q3. Can you play PC games without the internet?
Ans. Yes, there are lot of free Offline PC Games that can be played without internet. To know more about such games, check this out- offline PC games