Welcome to a world where the boundaries of imagination are shattered and creativity knows no limits! In the ever-expanding universe of Android gaming, sandbox games reign supreme, offering a virtual sandbox where you can build, explore, and shape your own destiny. Whether you're a master architect, a daring adventurer, or a dream-weaver extraordinaire, these captivating games provide an immersive experience that transports you to boundless realms of possibility.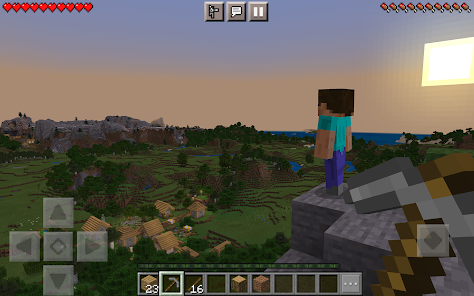 So, grab your virtual shovel and join us as we delve into the mesmerizing world of sandbox games for Android, where the only restriction is your own imagination!
The Best 5 sandbox games for Android
Roblox
Minecraft
Growtopia
Mini world: create
Terraria
Details of the Sandbox games for Android
Roblox
Roblox enables you to create, share experiences, and become anybody or whatever you want. This is the ultimate virtual world where you can create, interact with others, and take on any identity you can think of. Explore the many immersive worlds that a global community has created and join the millions of others who have already done so.
System requirement
| | |
| --- | --- |
| Download size | 133 MB |
| OS | Android 5.0 and up |
| Genre | Adventure, simulation, sandbox |
| mode | Single-player, multiplayer |
About the game
Want to embark on a grand adventure? Want to compete internationally with rivals? Do you like to hang out and chat online with your buddies instead? Thanks to the community's growing collection of constructed worlds, there's always something new and exciting for you to discover.
Travel with joy. Roblox offers complete cross-platform support, allowing you to play with millions of other users as well as your friends. Be imaginative and display your distinctive taste! Your avatar can have a tonne of different hats, outfits, faces, gear, and other items. The unlimited variety of looks you can create is made possible by the ever-expanding selection of items that are readily available.
Minecraft – the most popular sandbox games for Android
At least once in our lifetime, we all have played this pixelated game. A 3D sandbox game like Minecraft has no set objectives to complete, giving players a lot of flexibility in how they want to play. Players were free to go anywhere and construct anything they wanted, thanks to the creators. Picking up and placing rough 3D items is the main gameplay mechanic.
System requirement
| | |
| --- | --- |
| Download size | 604 MB |
| OS | Android 5.0 and up |
| Genre | Simulation, sandbox, arcade |
| mode | Single-player, multiplayer |
About the game
The building blocks used in the "Minecraft" video game can be arranged as you desire. Play in Creative mode with unlimited resources or in Survival mode while looking for tools to fend off threats. You may journey alone or with companions in Minecraft: Bedrock Edition thanks to seamless cross-platform play, and you can find an infinite, randomly generated world full of bricks to mine, biomes to explore, and critters to befriend (or fight).
In Minecraft, you have a choice, so have fun with whatever you want! You can distribute goods, call in monsters, alter the time of day, and more. Realms, your own private server that we host for you, enable cross-platform play with up to 10 pals whenever and wherever you like.
Growtopia
The world of Growtopia is an immensely popular MMO game that turns every player into a hero. Within this enchanting virtual realm, you'll have the opportunity to embark on thrilling quests alongside wizards, doctors, star explorers, and even superheroes.
System requirement
| | |
| --- | --- |
| Download size | 137 MB |
| OS | Android 5.0 and up |
| Genre | Simulation, sandbox, casual |
| mode | Single-player, multiplayer |
About the game
The game's vast collection of thousands of unique items allows you to unleash your creativity and construct your very own worlds, limited only by the boundaries of your imagination. But the true beauty of Growtopia lies in its sense of community, as you join forces with fellow gamers to build, farm, and bring awe-inspiring worlds to life together.
From majestic castles and treacherous dungeons to futuristic space stations and towering skyscrapers, there are no limits to what you can create. Let your artistic prowess shine as you even recreate scenes from your favourite movies. In Growtopia, you can truly become anyone you desire, transforming yourself into a space knight wielding a lightsaber or a noble queen accompanied by your very own dragon.
The excitement doesn't end there, as the game offers thousands of mini-games crafted by other players. Whether you enjoy heart-pounding parkour challenges, thrilling races, intense PVP battles, or even ghost hunting, there's a mini-game tailored to suit your taste. Additionally, the ability to craft new items and trade them with other players adds another layer of depth and excitement to the gameplay.
Mini world: creata
discover a vast sandbox environment filled with a wide range of distinctive monsters, blocks, minerals, and mines. There are many different kinds of mini-games, including parkour, puzzle, first-person shooter, strategy, and more. everything may be made using the in-game editor.
System requirement
| | |
| --- | --- |
| Download size | 557 MB |
| OS | Android 4.4 and up |
| Genre | Adventure, simulation, sandbox |
| mode | Single-player, multiplayer |
About the game
A free 3D sandbox game called Mini World is all about discovery, adventure, and building your fantasy worlds. There is no levelling up or grinding. No IAP gate that excludes free-to-play users from certain features. Everyone has complete flexibility to enjoy the game's features.
In the Survival mode player has to survive, gather resources and make tools and shelters. You will soon have the opportunity to face great monsters in the Dungeon, either by yourself or with friends if you continue crafting and upgrading.
while in creation mode all the sources are available to players right away. You can create a music-playing map, a harvesting system, or a floating castle by adding or removing blocks. There is no ceiling.
Terraria
As you battle for survival, money, and glory, the entire world is at your fingertips. You have a choice in the World of Terraria: explore vast voids, seek out ever-greater adversaries to test your battle skills, or build your city.
System requirement
| | |
| --- | --- |
| Download size | 134 MB |
| OS | Android 5.1 and up |
| Genre | adventure, action, survival, sandbox |
| mode | Single-player, multiplayer |
About the game
The gameplay of Terraria, a 2D sandbox game with single-player and multiplayer options, is centered on exploration, building, crafting, fighting, survival, and mining. The graphics of the game are 2D sprite-based tiles that are evocative of the Super NES's 16-bit sprites. Similar to games like the Metroid series and Minecraft, the game is renowned for its timeless exploration-adventure experience.
Players may interact with and alter the game's universe, which is built up of several levels of tiles. Exploring caverns may lead to the discovery of several resources, including metal ores. In Terraria, several items lead to elaborate crafting trees involving numerous other items to produce a single potent piece of equipment.
In Terraria, players may come across a wide variety of foes, the appearance of which relies on several variables including location, time, and random occurrences. The game has an open-ended class structure that is essentially classified into summoner, melee, ranged, and magic classes. Bosses that use a variety of various fighting systems and have the potential to drop rare and expensive goods are another option for players.
Also Read:
Games like minecraft for android, PC, ios
Conclusion
Thank you for reading this blog post about sandbox games for Android! We've explored the exciting world of open-ended gameplay and creativity that sandbox games provide on the Android platform. From building and crafting to exploring vast virtual worlds, these games offer endless possibilities and hours of entertainment.
Remember, this is just a small selection of the many sandbox games available on the Android platform. Whether you prefer a pixelated aesthetic, realistic graphics, or a mix of both, there's a sandbox game out there that will capture your imagination and provide hours of immersive gameplay.
So, grab your Android device, dive into these sandbox games, and let your creativity run wild! The only limit is your imagination. Enjoy the endless possibilities and have fun shaping your virtual worlds!
FAQs
Q1. What are the best sandbox games for android?
Ans. The Best 5 sandbox games for Android
Roblox
Minecraft
Growtopia
Mini world: create
Terraria
Q2. Can I play these games on android 7?
Ans. Yes, and you can also check the system requirements of the games to know more about the requirements.
Q3. Can you play android games without the internet?
Ans. Yes, there are lot of free Offline android Games that can be played without internet. To know more about such games, check this out- offline android games