Unleash the adrenaline-pumping action at your fingertips with the ultimate arsenal of war games for Android! Prepare to dive into the heart of battle, where cunning strategies, breathtaking graphics, and immersive gameplay await.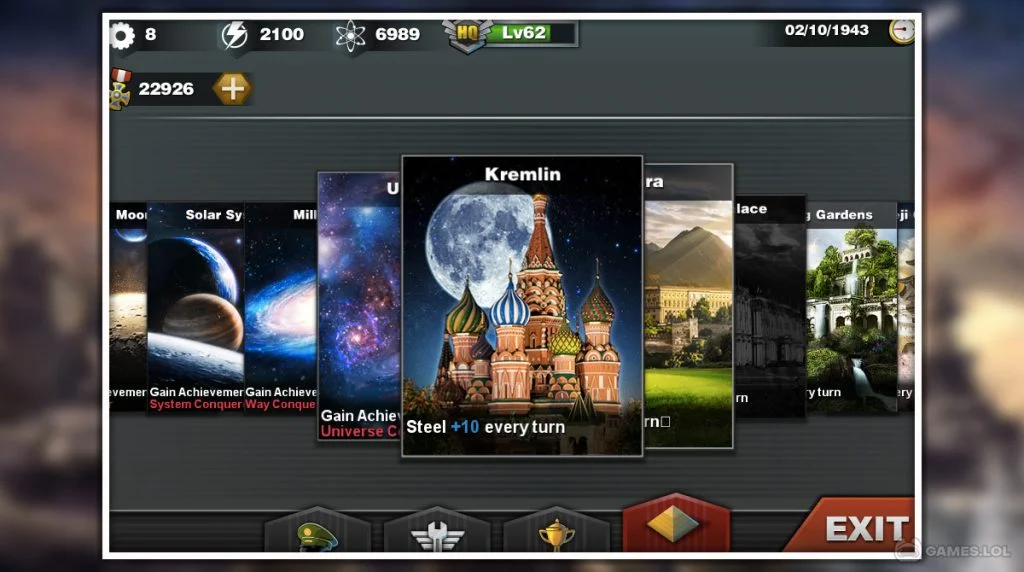 top war games for android
Whether you're a seasoned commander or a fresh recruit to the battlefield, these games will push your skills to the limit and keep you glued to your screen for hours on end. Lock and load, as we embark on an epic journey through the top war games for Android, where victory and glory are just a few taps away!
Also read: top 10 offline games for android
List of top war games for Android
World War 2: shooting games
Doomsday: last survivor
Last war: army shelter
World war: fight for freedom
World conquer 3: ww2 strategy
Let's know more about these war games for android
World War 2: shooting games
You must play this shooter game if you enjoy war games with a World War II backdrop. You will be able to enter the world of shooting games thanks to outstanding graphics, engaging gameplay, and an abundance of ancient armour and weaponry.
System requirement
| | |
| --- | --- |
| Download size | 461 MB available space |
| OS | Android 6.0 and up |
| Genre | Action |
| mode | Single-player |
About the game
You can use your special gear with antique weapons, skins for weapons, mementoes, and other diverse weapon pieces.
World War 2 is currently raging, while the Cold War is still in the future. A variety of action games are available, including Team Deathmatch, Free for All, Capture Point, Arms Race, Knives Only, and even Bomb Mode. Use diverse FPS techniques on various maps, be wise, and don't forget about cunning strategies.
Embark on an immersive journey through the battlegrounds of WW2 – Battle Combat, where adrenaline meets history! With 5 epic gun game areas and 6 thrilling modes, brace yourself for the ultimate combat experience. Engage in intense warfare alongside up to 10 players, each vying for victory. Choose your side of the conflict, be it the valiant Soviets, formidable Germans, mighty Americans, brave Koreans, or resolute Japanese, and lead your war heroes to glory.
Arm yourself with a diverse range of weapons and equipment, while unlocking a varied Ability system to create a truly exceptional character. It's time to show your mettle on the frontline, shaping the course of history with your every move in this gripping war game for Android. Will you seize triumph or be consigned to the annals of war? The choice is yours. Enlist now and embrace the thrill of WW2 – Battle Combat!
Doomsday: last survivor
A multiplayer online survival game with real-time strategy components is called Doomsday: Last Survivors. In a near-future world where zombies have taken over, survivors must fight for both their lives and the destiny of civilization.
System requirement
| | |
| --- | --- |
| Download size | 1.2 GB available space |
| OS | Android 5.1 and up |
| Genre | Strategy |
| mode | Single-player, multiplayer |
About the game
As the Commander, it is your responsibility to lead the other survivors as they build their Shelter, seek out obscure locations, and fight the undead and other factions. Find creative ways to beat your opponents in one of the coolest strategy games. As you explore this shattered world filled with infected, you'll be accompanied by informed survivors. Be on the lookout, set up ideal Hero formations, and construct defences to escape the zombie attack!
Kill zombies to survive the end of the world, or raid other Shelters to feed your own. One of the best survival games allows you to team up with others and battle foes together.
Make use of every opportunity to enhance your survival game play. Train different troop types, employ a range of combat strategies, Hero skills, and attacks to survive the zombie onslaught. Heroes showcase survivors from many walks of life in lifelike and appealing designs. Hire skillful Heroes to lead your troops, guard your Shelter, and more in order to win one of the finest strategic games!
also read: action games for android
Last war: army shelter
Military Survival Plan for World War 2. Create and Protect Shelter. Take enemy bunkers by force. Shelter Survival Techniques. Give yourself control of the Last Army Shelter. Rebuild the WWII Bunker. Save the living. Build and fight.
System requirement
| | |
| --- | --- |
| Download size | 154 MB available space |
| OS | Android 8.0 and up |
| Genre | Strategy |
| mode | Single-player, multiplayer |
About the game
World War II (WWII) came dangerously close to wiping out civilization. Take control of the few survivors in the sanctuary of the underground outpost that is almost destroyed. Your Fallout Bunker needs repair. Take up the challenge of constructing a protected base for the soldiers who survived.
Discover the area around your refuge in the post-apocalyptic world. In combat missions, take the loot to add to your arsenal of gear and weapons. Prepare your team to use new weaponry that will help with rescue efforts. Strengthen your team by liberating prisoners from the enemy's jails. Save your most potent weaponry for combat with snipers and tanks from World War 2.
In this thrilling WW2-themed strategy game, players have access to a vast array of options to prepare for battle. Hundreds of weapon customizations and equipment choices, including knives, pistols, assault, and sniper rifles, allow for unique and personalized loadouts. By collecting blueprints, players can assemble one-of-a-kind weapons for their shelter heroes, enhancing their combat capabilities. Gunpowder mining adds a strategic element, enabling the design of new support features during intense battles.
To bolster their resources, players can build money modules and assign soldiers to produce coins, crucial for funding their operations. The game's immersive story-driven campaign presents diverse missions for shelter heroes, keeping players engaged throughout. As commanders, players have the opportunity to construct an underground bunker, continually improving their stronghold by adding new rooms and upgrading existing ones.
Furthermore, troop development is crucial for success, with players able to equip soldiers with stronger armour to withstand enemy assaults. As the ultimate goal, victory in the Last War hinges on strategic planning and crushing the enemy's army. Dive into this exciting world of wartime strategy and lead your shelter heroes to triumph!
World war: fight for freedom
Taking place against the backdrop of World War 3, World War 3 Defense is a first-person shooter (FPS) game. In the game, the player is entrusted with holding out against armies, helicopters, battleships, planes, bombers, tanks, and numerous armed soldiers. The game includes a wide variety of weaponry, such as heat-seeking missiles, javelins, and NLAW in addition to 50mm machine guns.
System requirement
| | |
| --- | --- |
| Download size | 81 MB available space |
| OS | Android 5.0 and up |
| Genre | Action, shooting |
| mode | Single-player |
About the game
From World War 3, there are hundreds of combat planes, ships, drones, and other war machines, including more than 50 different types of combat tanks. B58 bomber aircraft will strike players as air assistance.
With upgrades to missions, weapons, technological moves, and more, World War 3 Defense is regarded as a fantastic enhanced version of tank killing games. Despite certain physical problems, it is nevertheless a fantastic action shooting game that many fans of this genre like.
World War 3 Defense should be your first pick if you enjoy action shooting games, sniping games, tower defence games, survival shooting games, battleship games, combat tank games, combat plane games, combat robot games, or war games.
Also Read: top war games on PC
World conquer 3: ww2 strategy
playing a fantastic turn-based strategy game on World War 2. The war is about to start. The most formidable legions are awaiting a great commander! Lead your army to victory and achieve great military feats!
System requirement
| | |
| --- | --- |
| Download size | 94 MB available space |
| OS | Android 5.1 and up |
| Genre | Strategy |
| mode | Single-player |
About the game
Step into the shoes of a formidable commander in this epic strategy game that spans multiple eras. Assemble a roster of skilled generals by promoting them and acquiring new talents from prestigious Military Academies worldwide. Your journey begins with accomplishing assigned tasks in various cities and engaging in trade with merchants at bustling ports.
But your ambitions don't stop there – embark on a quest to build awe-inspiring Wonders of the world and venture into the uncharted territory of the Universe. The game's real-time gameplay immerses you in the turbulent events of World War II, the Cold War, and Modern Warfare, each presenting unique challenges and opportunities.
Strategic planning is further enriched by the influence of 42 world wonders, which can tip the scales of victory in your favour. Aim to conquer and achieve 11 momentous milestones that await you on your path to greatness.
For those seeking a more automated experience, open auto battle and let the AI lead in your stead, granting you the freedom to focus on larger decisions. The seamless world map allows you to zoom in and out, gaining a comprehensive view of the evolving global situation.
Explore four different scripts, each set in a distinctive age: Conquer 1939, Conquer 1943, Conquer 1950, and Conquer 1960. As the world pattern shifts over time, you'll have the freedom to choose any country and join the war from various perspectives.
Select your side and country wisely, as different allegiances yield different rewards. With boundless possibilities, embark on this thrilling journey and leave your mark on history as a masterful conqueror!
Also Read: no wifi games for android, ios, pc
Conclusion
In conclusion, war games for Android offer an immersive and adrenaline-pumping experience for gamers seeking thrilling battles and strategic challenges on their mobile devices. With the ever-evolving technology and capabilities of smartphones, these games have reached new heights in terms of graphics, gameplay mechanics, and overall user experience.
Whether reliving iconic moments from history or envisioning futuristic scenarios, these games offer a unique blend of excitement and strategy. The global scale of conflicts, the involvement of famous generals, and the opportunity to build wonders of the world make war games for Android an enticing option for mobile gamers worldwide. So, dive into these action-packed adventures and unleash your tactical prowess to emerge victorious in the virtual battlefield of war games for Android.
FAQs
Q1. What are the best war games for android?
Ans. List of top war games for Android
World War 2: shooting games
Doomsday: last survivor
Last war: army shelter
World war: fight for freedom
World conquer 3: ww2 strategy
Q2. Can I play these games on Android 7 and above?
Ans. Yes, and you can also check the system requirements of the games to know more about the requirements.
Q3. Can I play war games for android without the internet?
Ans. Yes, there are a lot of free Offline android Games that can be played without the internet. To know more about such games, check out offline android games